Which ASCE provision do you typically use when designing a rooftop screenwall for wind loads?  Several options have been used by structural engineers in the past, but the best option has been debatable since the code has not explicitly spoken on the subject.  New guidance in ASCE 7-16 helps clarify this frequently asked question.
In the May 2022 SEU Session, Emily Guglielmo, SE, PE, from Martin/Martin Inc., presented Wind Loads: Updated Frequently Asked Questions.  Emily explained how to deal with commonly encountered wind load situations that are not fully addressed in the code.  She also identified the latest code updates and examined some complicated wind load provisions and how they relate to real world examples.
One of the most frequently asked questions, in regard to wind load provisions, is what wind load should engineers use for a roof top screen wall or equipment?  Emily noted that while there are several commonly used provisions for these calculations, there is an approach that may be considered 'more right' than others.  Typically, engineers have used one of the following three different options for determining the wind loads on rooftop screen walls:
A. Rooftop Structures and Equipment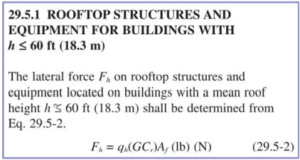 B. Solid Freestanding Signs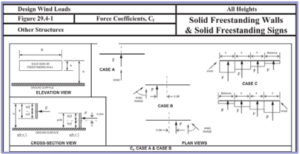 C. Parapet Pressures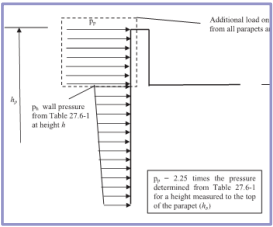 While Emily noted that none of these approaches are necessarily incorrect, the code now offers some guidance in the commentary: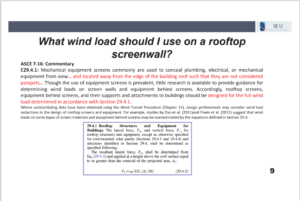 New to the commentary in ASCE7-16, C29.4.1 states that "Mechanical equipment screens… located away from the edge of the building roof such that they are not considered parapets…" should use the wind load determined with Section 29.4.1.  This statement implies that if the screen is located near the edge of the roof, that perhaps a parapet pressure might be more appropriate.  Emily noted that it would be reasonable to conclude that if the screen wall falls within the typical rooftop wind zone, then Sections 29.4.1 should be applied and when the screen falls within an edge or corner zone, a parapet pressure could be more appropriate.
This new addition to the commentary with the 2016 revision helps provide more clarity to this frequently asked question, and engineers now have more guidance for common rooftop screens and equipment.