Happy Holidays from SE University!
It's the holiday season, and we would like to take this opportunity to thank our SE University clients and speakers for being a part of our SEU family during 2019. Because of your support, we have been able to make many charitable donations during the past year through our SEU Speaker Inspires program. Click on a speaker name below to learn more about their donation, and click on the organizations to visit their websites.
| | | |
| --- | --- | --- |
| Month | Speaker | Organization |
| January | Brad Fletcher, SE | Alzheimer's Association |
| February | Matthew Rechtien, PE, Esq. | David and Maxine Fowler Endowed Excellence Fund at UT-Austin |
| March | Geoff Blumber | James Mirabal, P.E. Endowed Scholarship in Civil, Architectural and Environmental Engineering at UT-Austin |
| April | Cathleen Jacinto, PE, SE | Children's Hospital of Orange County |
| May | Roger LaBoube, PhD, PE | Leukemia and Lymphoma Society |
| June | Lori Koch, PE | Richmond SPCA |
| July | John Lawson, PE, SE | The Land Conservancy of San Luis Obispo County |
| August | Duane Miller, PE | The City Mission – Cleveland |
| September | James O. Malley, SE | Earthquake Engineering Research Institute (EERI) Learning from Earthquakes (LFE) Endowment Campaign Fund |
| October | Bruce Brothersen, PE, SE and Walter Worthley, PE, SE | City of Hope and St. Jude Children's Research Hospital |
| November | Emily Guglielmo, SE | Bridges to Prosperity |
| December | Anthony Fasano, PE | Same Kind of Different as Me Foundation |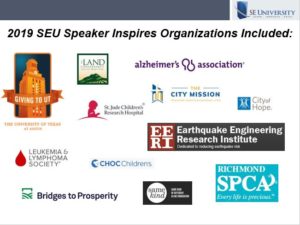 SE Solutions began the SEU Speaker Inspires program in 2015 as a way to "pay it forward", enabling our speakers to designate a charity/organization of their choice for SE University to make a donation to help improve our world. To read more about SEU Speaker Inspires, please visit the SEU Speaker Inspires category on the SE University blog.
We want to thank our speakers throughout the year who participated in this program, and we look forward to future donations in 2020.
Warm wishes for a wonderful holiday season!